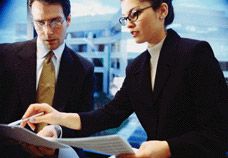 HR Support Package costs are typically 38 pence per employee per day. That is less than ₤12 per employee per month,(excluding VAT) for 20+ employees the price reduces. That compares very favourably with the typical HR support services costs of other providers, and much less than ₤500 per person, per annum, which is the typical cost for companies handling HR activities in-house.
This value proposition means that even the smallest companies can now afford professional support and be HR-compliant. If the Managing Director has previously been handling the HR activities, then their time is now freed up for the business of actually managing the company
The cost of non-compliance can be measured in the exposure to tribunal fines for having "got it wrong" or not having the right documentation in place. The maximum fine for unfair dismissal is unlimited. The average fine is around ₤9000 at tribunal.
For the Fully managed HR function service the price like the service is bespoke. However costs are typically 30-40% lower that the in house alternative.